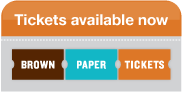 Click logo to buy tickets.
BUILDING THE WALL a disquieting response to the dawn of the Trump era.
Robert Schenkkan wrote it, he said, in a "white-hot fury."
It's the very near future, and the Trump administration has carried out his campaign promise to round up and detain millions of immigrants. Now, a writer interviews the supervisor of a private prison as he awaits sentencing for carrying out the federal policy that has escalated into the unimaginable.
This riveting, harrowing and illuminating drama delivers a powerful warning and puts a human face on the inhuman, revealing how when personal accountability is denied, what seems inconceivable becomes inevitable.
Many theaters around the world, acting with unusual speed, have already agreed to present this play. Shaping an early response to an embryonic presidency that has alarmed many theater artists. "The play will be presented worldwide this year and I'm very happy that I was able to secure the rights to produce this extraordinary play in San Miguel de Allende" says producer/director Alan Jordan.
The play, set in 2019, is in the form of speculative fiction, or future history. In it, a writer interviews a prison executive awaiting sentencing for his role in a Trump administration effort to detain and deport large numbers of immigrants after a terrorist attack in the United States.
"Building The Wall was first presented in San Miguel in July to sold out houses and is being brought back to the Shelter Theater by overwhelming popular demand. Both Cynthia Simmons and David Galitzky will reprise their roles.
"BUILDING THE WALL" runs at the Shelter Theater from November 29 – December 3. Only 5 shows.
All seating will be reserved.
Tickets go on sale October 2.
online, sheltervg4.com
in person, at Tesoros boutique at the Biblioteca.
For info Email sheltervg4@gmail.com